In Labor & Warehouse, Gemadept is the name being chanted on top. Following is familiar names such as DHL, Viettel Post … The Electronic Commerce in the scale of 6.2 billion USD has made Vietnam's logistics become more excited.
In Transportation, Vietnam Airlines stand on top about merchandise transport, the following is The Vietnam Railways.
Top 10 Legit company in Transportation & Logistics was built on science and objective principles. All company was judged, rated on 3 main targets:
The financial capacity based on

the financial

report in recent year (all the assets, income and outcome, profits, efficient of using the capital money)

The media reputation is rated by Media-Coding method - encode posts about the company on all affected media channel

Survey on all the experts in the

department

and the enterprise is made in 12/2018 about the capital scale, market, labor, the speed of profit revenue, the marketing plans in 2019, ….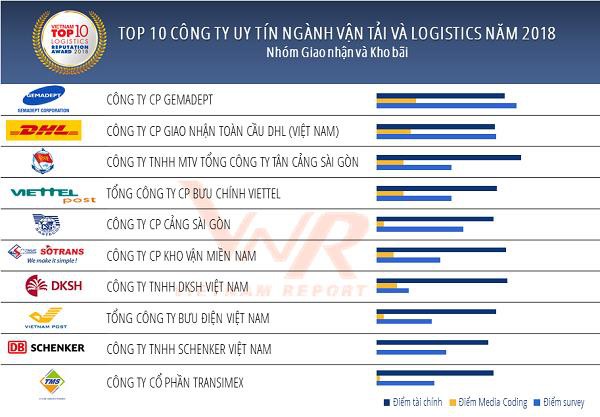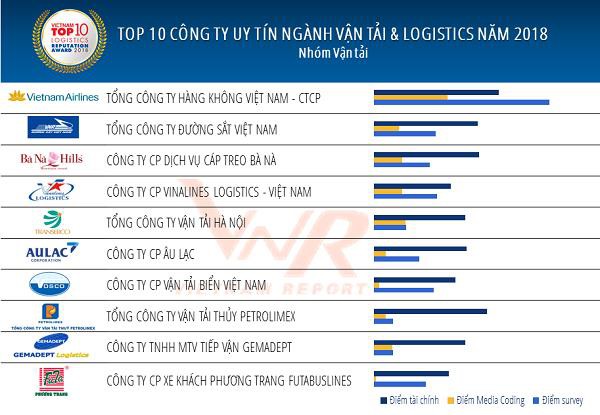 Transportation & Logistics is on the scale of development with the increasing of Export-Import industry. As the newest announcement of the World-Wide Bank, Vietnam is at place 39 with the LPI (Logistics performance index – The index of the country about Logistics), have improved significant at 3,27, stand 3rd place in ASEAN, (behind Singapore at place 7 and Thailand at place 32) the charts of Logistics' working in 2018.
Vietnam is evaluated have the efficiency of the logistics service better than most of the markets have a similar income.
Vietnam reports judged that in 2018-2019 will witness the explosive of transport and logistics in Vietnam's electronics commerce when the scale of this market in 2017 had risen 6.2 billion USD.
Source: cafebiz.vn
Editor: Nguyen Van Dung